Wednesday, April 2nd, 2008
There is an enormous variety of web sites on the South Tyrol to be found on the web, ranging from alpenregionen.info to wanderhotels.info, and their number has long since exceeded the 1,000 entries-mark: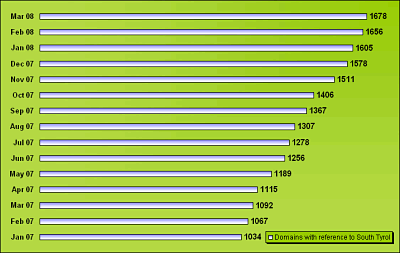 Registered domains (.com, .net, .info, .biz, .us) refering to South Tyrol.
Just to give you an idea:
www.alpenregionen.info www.alpentourer.de www.altabadia.it www.altoadige-it.com www.antholzertal.net www.bozen.info www.camping-channel.info www.camping-suedtirol.it www.dolomiten.net www.dolomititour.com www.einfach-suedtirol.info www.eisacktal.net www.fewofeha.de www.gosuedtirol.it www.holidayhouses.de www.hotel.bz.it www.hotel-ritten.info www.last-minute-wellness.com www.live-style.it www.meinsuedtirol.com www.meranerland-hotel.com www.meran-hotel.de www.plandecorones.net www.pustertal.com www.ritten.info www.roterhahn.it www.sanvigilio.org www.schnalstal.info www.sudtirol.com www.südtirol.de www.suedtirol.com www.suedtirol.de www.suedtirol.info www.suedtirol.to www.suedtirol-altoadige.it www.suedtirolerhotels.de www.suedtirolerland.it www.suedtirolerland.it www.suedtirolerleben.com www.suedtirol-ferien.it www.suedtirolinformation.com www.suedtirolinformation.it www.suedtirol-it.com www.suedtirol-lastminute.com www.tauferer-ahrntal.eu www.unterkunft-vinschgau.com www.urlaub-ferien-bauernhof.com www.urlaub-fuer-unternehmer.de www.urlaub-suedtirol.it www.urlaub-suedtirol.it www.valvenosta-vinschgau.it www.vinschgau.info www.wanderhotels.info
According to this substantial increase of almost 50 domains per month in the last 14 months it can be assumed that the number of South-Tyrol-centred domains will not be diminishing in the near future.
What do all these web sites have to do with a portal?
According to Wikipedia.de a web portal is
… a site that provides a single function via a web page or site. Web portals often function as a point of access to information on the world wide web. Portals present information from diverse sources in a unified way … it aims at bundling regularly used services or providing an overview for entering a subject.
Having a look, however, at the "portals" leading the hit list after a corresponding search on google, one will find out that this definition does not apply to most of them.
Further reading on Wikipedia.de reveals a better description for the vast number of the above mentioned "portals":
The denomination "web portal" … is often falsely used for any web application.
So this is the gist of it: the term web portal is often mistaken for the term web application.
It's unclear just how long
https://topspying.com/mspy
the device will last in between charges a march 2013 report claimed the company was aiming for battery life of four to five days, but it's tough to envision those numbers in light of this new report